Back to all courses
Industrial value creation and management
Minor
This minor will be offered through FITech for the last time in the academic year 2021-2022. Please also note that the application deadline for courses belonging to a minor that are offered in the spring semester is exceptionally already on November 1st. Please check the individual courses for updates regarding future availability.
The minor in Industrial value creation and management (IVCM) provides skills to career paths in management consulting, industrial sales, project, service and product management.
After reaching the end of a learning path of four courses you will understand how value is created and captured and have the skills to actively manage value increasing initiatives.
The two first courses of the learning path are on the intermediate level which are followed by two courses on the advanced level.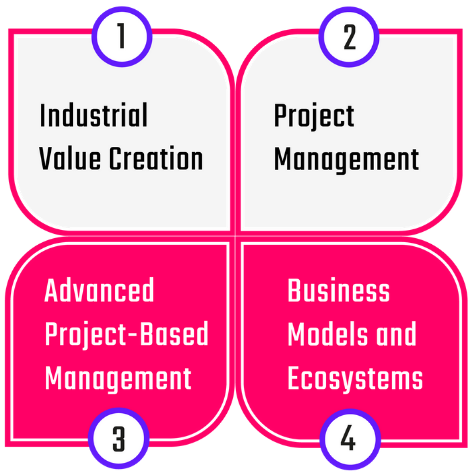 The courses in this minor are put into practise in co-operation with Åbo Akademi, Aalto University, Tampere University and University of Oulu.
The minor consist of the following courses:
Industrial value creation: This course will give you knowledge on how value is created in and by a firm.
Project management: The next course, Project management, is based on the theoretical foundations closer to the practical management of projects.
Advanced project-based management: In this course, you will get a more in depth view of specific areas of project management.
Business models and ecosystems: After you master value creation and the harvesting of this value in specific projects in the firm, the course Business models and ecosystems challenges you to think about the industrial value creation from a wider perspective.
Check this short video about the minor!
Courses in this minor
Further information about the courses and studying
Åbo Akademi
Viktor Sundholm
viktor.sundholm(at)abo.fi
Contact person for applications
FITech Network University
Fanny Qvickström, Student services specialist
Start here
Start here
Category:
Technical studies
Topic:
Industrial engineering and management
Teaching period:
2021–2022
Application deadline:
See each course for info
Host university:
Multiple universities
Who can apply:
Adult learner,
Degree student
Teaching method:
Blended,
Online
Place of contact learning:
Turku
Teaching language:
English
Interested in this course? Subscribe and get updates about the course directly to your email. You can cancel subscription any time you want.