PHILOSOPHY
We were Crystallizing the FITech Way of Learning at FITech Forum: May 21st at Holiday Club Caribia, Turku.
This time around FITech Forum centered in on 1) the FITech way of learning and 2) the FITech way of industry-academia cooperation.
CONCRETE, DIRECTLY ACTIONABLE DEVELOPMENT IDEAS:
1. FITech Challenge Degree
 Idea: challenge project defined in company and given to group of FITech students to be solved as part of a course. Work of project team facilitated/managed by responsible person from company, from whose viewpoint the course also serves as an avenue for lifelong learning. The company facilitator receives training in leadership/facilitation/communication/project management/etc and also receives study credits or a diploma for their efforts.
Novelty: two-sided challenge-based learning, where also the company contact is consciously in training during the project.
Implementation:
To be included as a pedagogical "course template" in planning cycle of studies in Fall 2018: next stop to try to find a professor to try out the concept in their course. Please be in touch if this strikes a chord!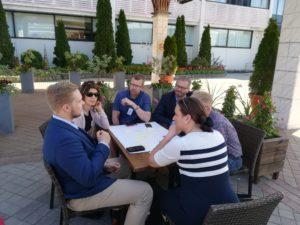 Photo: Group work / FITech Forum
2. FITech Wicked Problems Module
Idea: to build a multi-disciplinary study program in which a selected wicked problem is first approached theoretically and practically by a group of students over several courses at their home university. An integrative capstone course is held once a year in Turku, combining the students and varying viewpoints to the Wicked Problem developed in different courses in FITech universities. Companies actively involved, and students develop thesis topics during the integrative capstone course, being provided the opportunity to put those projects into practice after completing the course.
Novelty: a truly multi-disciplinary course connecting students from various universities as well as companies around the same, all-encompassing Wicked Problems. A new approach to building a bridge between Turku and students from FITech universities.
Implementation:
 Need to quickly identify interested teachers from min. 2 FITech Universities to further plan the concept, so that it can be evaluated and, if need be, resourced in Fall 2018.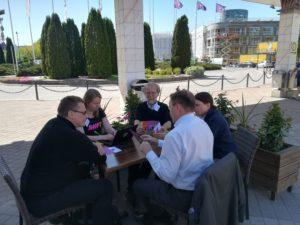 Photo: Olli Manner, Elomatic, FITech Turku management team (chair) and Eero Eloranta, Aalto University, FITech Board (chair) and their group creating development ideas / FITech Forum
3. FITech "Value Creation Week"
 Idea: to build a range of activities during one week in Fall 2018, the point of all of which is to promote matchmaking between groups of students, companies and professors.
Students-companies: discussing recruitment opportunities, summer jobs etc
Professors-companies: inventing novel ways of building bridges between academia and  companies, the goal being to create contact between students and companies throughout the lifecycle of studies
 Novelty: A forum with a comprehensive take on industry-academia cooperation. One-stop-shop for companies and universities to build new links and create value.
Implementation: to be organized in late Fall 2018 for the first time. Key resource: FITech community designer, who is starting in August 2018.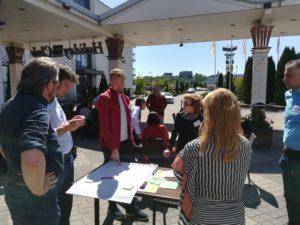 Photo: Project Director Heikki Koponen and his group creating new / FITech Forum
4. FITech Mentoring Program
Idea: To gather a pool of people from companies to mentor FITech students soon to graduate as well as recent graduates in the early phases of their career.
 Novelty: Mentoring could be a strong way to build links between FITech students and companies in the region, increasing the likelihood of employment in local companies.
Implementation: A pilot to be done in Fall 2018 with some limited group of mentors and actors to test the concept. Together with FITech community designer and possibly TEK.