FITech-opintoja järjestetään seitsemässä yliopistossa. Voit valita kursseja yhdestä tai useammasta yliopistosta ja hakea niihin opinto-oikeutta. Huomaathan, että opinto-oikeuden saatuasi sinun tulee pääsääntöisesti ilmoittautua kursseille yliopiston omassa järjestelmässä. Saat tästä ohjeet opinto-oikeuden hyväksymisen yhteydessä.
Jos olet tällä hetkellä tutkinto-opiskelija ja kurssin järjestää oma kotiyliopistosi, ei sinun tarvitse hakea erikseen opinto-oikeutta FITechin kautta, vaan voit ilmoittautua kurssille yliopistosi ohjeiden mukaan.
1. Täytä hakulomake Opintopolussa
täällä >>
Voit hakea yhdellä hakulomakkeella niin monelle kurssille kuin haluat, useaan eri yliopistoon.
Hakulomakkeen yläreunassa on painike "Lisää hakukohde". Tästä avautuu lista kaikista tällä hetkellä haettavana olevista kursseista. Kurssit ovat nimensä mukaan aakkosjärjestyksessä. Voit myös kirjoittaa tai kopioida hakemasi kurssin nimen hakukenttään. Valitse kaikki ne kurssit, joille haluat hakea painamalla "Lisää"-painiketta.
Täytä kaikki pyydetyt kentät. Varmista vielä lopuksi, että tietosi ovat varmasti oikein ja että olet täyttänyt kaikki etunimesi, jotta opinto-oikeutesi voidaan rekisteröidä oikein.

Täytäthän puhelinnumerosi muodossa +358 xx xxxxxxx

Huom. Jos olet tällä hetkellä työttömänä, otathan yhteyttä TE-toimistoon varmistaaksesi työttömyysetuutesi opintojen ajalle.
2. Saat lomakkeen lähettämisen jälkeen automaattiviestin, jossa on ohjeet hakulomakkeen muokkaamiseen.
Voit muokata tietojasi hakuajan puitteissa tai kunnes hakemuksesi on käsitelty. Jos päätät myöhemmin hakea muille kursseille, täytä uusi lomake.
3. Sinulle lähetetään tieto päätöksestä antamaasi sähköpostiin.
Olemme halunneet avata hakujärjestelmän hyvissä ajoin, jotta voit jo rekisteröityä haluamillesi kursseille. Hakemuksia aletaan käsitellä kesän aikana, joten saattaa viedä joitakin viikkoja ennen kuin saat hyväksymisviestin.
4. Vahvista osallistumisesi ottamalla paikka vastaan

Saat hyväksymisen yhteydessä linkin, josta pääset ottamaan paikan vastaan. Tässä yhteydessä sinun tulee kirjautua järjestemään pankkitunnuksillasi tai mobiilivarmenteella.*
Tunnistautumisen ja paikan vastaanoton jälkeen tietosi siirtyvät yliopiston rekisteriin ja sinulle voidaan luoda käyttäjätunnus. Mikäli kurssi on alkamassa pian, otathan paikan ripeästi vastaan, jotta saat tarvittavat tunnukset ajoissa ja pääset mukaan kurssialustalle.
5. Hyväksynnän jälkeen saat opinnot järjestävän yliopiston ohjeet liittyen tarvittavien IT-tunnusten aktivointiin ja kurssi-ilmoittautumiseen.
Muistathan siis ilmoittautua kursseille!
6. Sinulle luodaan opinto-oikeuden yhteydessä myös yliopiston sähköpostitili.
Huomioithan, että opinto-oikeuden rekisteröinnin jälkeen yliopisto tiedottaa opintoihin liittyvistä asioista ko. yliopiston sähköpostiosoitteeseesi, joten muista joko seurata sähköposteja tai ohjaa ne edelleen johonkin toiseen käytössäsi olevaan sähköpostiin.
*Tunnistautuminen tapahtuu ensisijaisesti suomalaisilla pankkitunnuksilla. Mikäli hakija on alle 18-vuotias tai suomessa asuva ulkomainen henkilö, jolla ei ole käytössään pankkitunnuksia, voi hän todistaa henkilöllisyytensä joko käymällä paikan päällä opinnot järjestävän yliopiston IT-palvelupisteessä tai muulla, yliopiston kanssa erikseen sovittavalla tavalla. Henkilöt, joilla ei ole suomalaista henkilötunnusta tai jotka eivät asu suomessa, eivät voi hakea tai osallistua FITechin opetukseen.

In English:
FITech studies are organised by seven different universities. You can choose courses from one or several universities and apply for a study right for them. Please notice that after getting the study right, you need to sign up for the courses in most cases. You will get instructions to do that once your study right application has been accepted.
If you are a degree student and the course is organized by your home university, just sign up for the courses in the registration system in your university.
1. Apply for a study right at
Studyinfo
here>>
By filling in one application form, you can apply for as many courses as you like, in different universities.
Click "Add application option" to add courses to the form. The courses are listed in alphabetical order. You can also search for the courses by writing the name of the course to the text field.
Fill in all the required fields. Make sure that all the information is correct and that you have filled in all your names. That way the university is able to register your study right.

Please, insert your phone number with country code, e.g. +358 xx xxxxxxx

NB! If you are currently unemployed, please contact the TE Services to discuss about your options for studying.
2. After sending the form, you will receive an automatic confirmation email with a link to edit your application.
You can edit your application within the application period or until your application is handled. If you decide to apply for some other courses later on, you can fill another form.
3. You will receive the information of your acceptance to the email you provided in the form.
We wanted to open the application system as early as possible so that you can register for the courses. The universities will start handling the applications during the summer, so it may take a couple of weeks before you receive the acceptance email.
4. Confirm your study place

You will get a link to confirm your study place in the acceptance email. You will need to log in to the system with your online banking access code and verify your identity.*
After the identity verification and confirmation of the study place, you will be granted the IT-credentials. If you are applying very close to the starting date of the course, be sure to confirm the place quickly so that you can get your IT-credential and access to the course platform on time.
5. The university organising the courses will also send you instructions on how to activate your IT-credentials and sign up for the courses.
So remember to sign up for the courses!
6. You will also get an email account of the university.
Please notice, that the universities send study information to that email, so remember to read the emails regularly or forward the mails to your own email account.
*You need to have Finnish social security number or you need to be a resident of Finland in order to apply for FITech courses. The primary mode of verifying your identity is to login to My Studyinfo with your Finnish online banking access code. If you are under 18 years old, or you live in Finland but don't have Finnish online identification code, you can visit the IT Helpdesk of the university organising the studies or verify your identity in some other way that needs to be agreed separately with the university in question.

Need help?
If you want to know more about studying in FITech or need help for applying, please contact our Service Designer Pilvi Lempiäinen: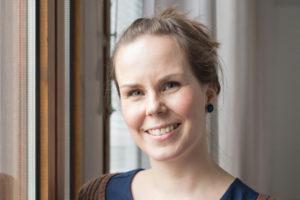 pilvi.lempiainen@fitech.io
+358 50 464 2083
Enjoy your studies!