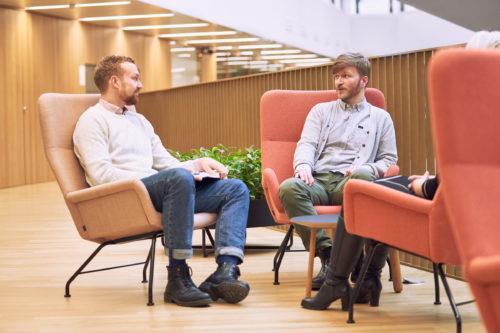 FITech helps to develop and revise the competences of organisations' employees
Many industries have already faced the digital transformation or will face it in the near future. This is why the significance of ICT skills grows even bigger. Lifelong learning is a current topic in many organisations but concrete actions might be missing. Through FITech studies, especially working adults can update their digital skills free of charge.
FITech can help companies and organisations to benefit from the diverse and multidisciplinary fields of study that FITech universities offer. We operate as a one-stop-shop: anyone can apply for all the courses available through one application form.
More information about developing and revising the competences of organisation's personnel can be found on the Finnish version of this page.
FITech builds collaboration between the industry and technical universities
One of our most important goals is to strengthen the connection between industry companies and Finnish universities and enable the communication between them.
Since its beginning, FITech Network University has had a strong connection to the industrial world. Through one of our founding members, Technology Industries of Finland (Teknologiateollisuus ry), we have a view to what are the companies' competence needs right now as well as in the future. Additionally, we have carried out our own competence need questionnaire for selected industrial companies.
Through the FITech Turku project, we are especially well connected with industrial companies located in Southwestern Finland. As a result of this collaboration, the companies can now utilise all the gathered information and knowledge by hiring a thesis worker or a summer trainee.
More information about collaboration with companies can be found here.