Back to all news and events
NEWS
How to get started with online teaching? Six steps from zero to online
Published 17.3.2020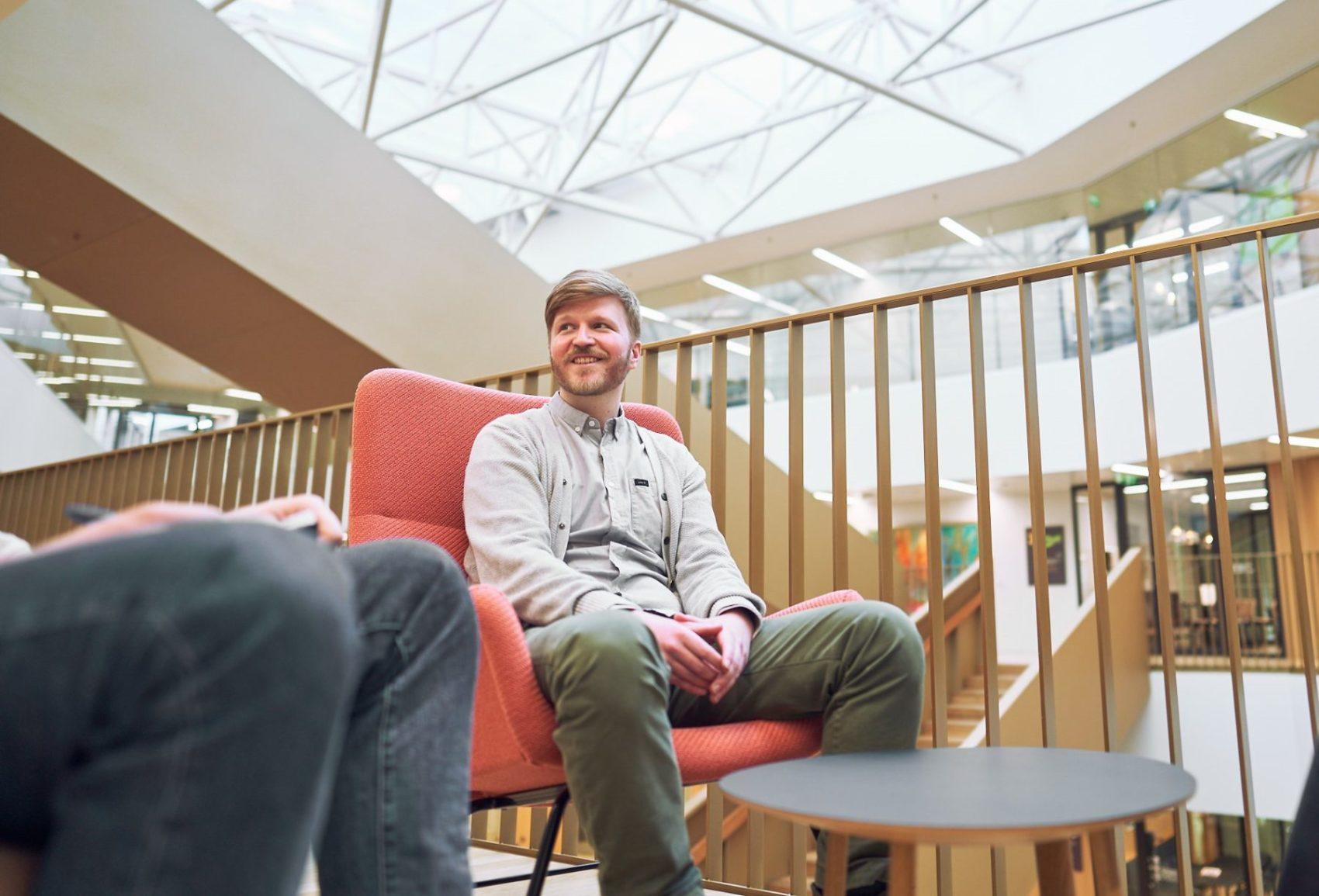 Right now, there is a pressing need for moving teaching from in-class to online due to the corona outbreak.
This affects FITech Network University like any other educational institution. In this blogpost, FITech's learning designer Akseli Huhtanen gives a few tips to get a kickstart for moving your teaching online today.
Like previously, our resources Design Book for Online Learning and Learning Design Toolkit are available to anyone. You can download them here. This blogpost is based on these resources.
We assume here that you have already set desired learning outcomes and figured out your core content. These six steps will help you get started moving it all online.
1. Format: Choose the method
Like with all learning, in online teaching you should first ask who should be learning. You might have a group that was supposed to be learning in-class on campus, and now suddendly is moved to online. But what kind of group it is?
Depending on whether your group is small or big, and are they mainly degree-seeking or adult learners you have certain options. Basic decisions to make are:
Synchronous or asynchronous: Is my teaching time-bound (synchronous) like livestreams or seminar discussions over video, or independent of time (asynchronous) like a MOOC where students advance in completely free schedule? Or is it "semi-asynchrous" so that learners can study the material when they like but have to turn in assignments on a weekly schedule?
Video-based or assignment-based: What are the learners mainly doing? Are they communicating through video or working on online assignments? To learn they should do something, but who will be in touch with them and how?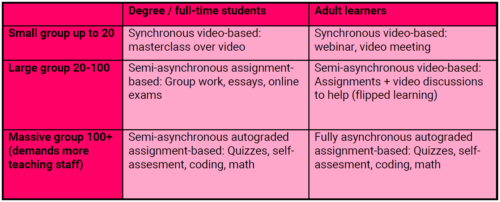 There are of course infinite numbers of other possibilities for online learning as well such as learning games and virtual reality sessions. These demand substantial amounts of time and other resources to prepare, so we opted them out for this starter guide.
2. Setup: The technical platform
When you have figured out what is the basic format for your course, you need to pick up the technical platform to implement it. Now that there is a sudden massive demand for online teaching, some of the platforms, especially video tools might be overloaded and not functioning reliably. This is a thing to consider when choosing the tools.
Assignment-based teaching:
Moodle or other LMS: Open source learning management system (LMS) available in almost all universities and used by many companies. Has many integrated tools to create learning activities such as H5P and Coderunner. Managing students is simple, visual attractiveness bit complicated. In Aalto, MyCourses is based on Moodle.
Blog platforms such as WordPress: The simplest way to publish the course online is probably as a blog. Blogging software such as WordPress makes content publishing very easy and gives more control over visual aspects than Moodle or other LMS's. The possibilities for managing students or creating assignments are limited.
Steamed video-based teaching:
Zoom: Video conferencing with groups up to 100. Allows presenting. Allows splitting the group into smaller "breakout rooms". Reliable. Can be used on mobile phone with a separate app. Provided by CSC to many Finnish universities.
Adobe Connect: Dedicated webinar-tool. Software licence available in many Finnish universities. Small issues with reliability.
Video conferencing tools: Skype for Business, Microsoft Teams, Slack, Google Meet etc. Many collaboration software these days include the option for video conferencing. These are not primarily built for teaching so they have limitations.
Online whiteboards and activation tools: Flinga, Mentimeter, Miro and many others let you throw an activating question and elaborate it on a virtual whiteboard during a video session. Just link to a workspace that you have prepared.
Video recording and publishing:
Panopto or Echo 360: Video tool for recording, editing and sharing videos. Simple to use, even with your laptop's built-in camera. Panopto and Echo are available in most universities and usually allow for direct video upload to Moodle.
Youtube or Vimeo: In case you can not publish your videos directly to Moodle or other learning platform, you should first upload it into Youtube or Vimeo, and then embed or share a link.
3. Organize: A clear structure
Whichever format and platform you end up choosing, for the learner it is important the course activities are structured. Online courses are most commonly organized into about week-long modules with a particular topic. There are as many structures as there are online courses, but on the very minimum level, an online course should be structured in four sections:
Beginning and activation of prior knowledge: The course opens with a run-through of learning objectives, structure, assessment and tools used during the course.
Basic knowledge: These modules cover the course's "must know" content. Each module comprises content and an active participation component.
Deepening interaction: These modules task the learners with actively working on the topic in the form of projects, group work, writing exercises or other activities. These interactive components can be incorporated among the basic knowledge modules.
Summing up and assessment: Summing up the topics covered by the course e.g. by means of an online seminar. Assessment can take place either at the end of the course (summative) or throughout the course by means of smaller exercises (formative).
4. Activate: People learn by processing
Learning happens when people are active. This means, every online course should contain activities and interaction. In practice, this means you should give your learners a lot of activities and assigments. Learners should be doing on the course what they're expected to be able to do after it. So, how to get ideas for online activities?
FITech's Activities & formats canvas (pdf): Helps ideating and picking the activities of the right difficulty level based on the expected learning outcomes.
Moodle's H5P plugin: Contains multiple different kinds of activities that are simple to create and embed directly into Moodle, such as quizzes, flashcards, memory games etc.
Adding Some TEC-Variety: e-book that contains 100+ ideas for actitivities.
E-Tivities: The Key to Active Online Learning book by Gilly Salmon.
Simply just google "ideas online learning activities + your field"
5. Crystallize: Be concise to maintain attention
In addition to activities, there will probably be some kind of content on your course: text, video, presentations etc. Online courses put a strain on students' attention spans. Your job as a teacher is to identify core content and weed out unnecessary information. A learner can focus on information delivered through a single medium for 15 to 20 minutes. But in the case of online videos this limit is in practice no higher than five minutes. Distributed practice is more effective than cramming.
So, when you think your content is ready, ask someone to go through it and comment with a critical view to look where it could still be crystallized more. Do they get the point? Will their attention remain through the material?
6. Interact
While activation and processing of content makes people learn, interacting with others helps them stay motivated. One of the most effective ways to make students stick to an online course is to use group assignments. In groups of 3–5 people, give learners one course-wide or several smaller assignments. Own group gives learners a peer community to ask if they didn't understand something or face technical difficulties.
Interact with the learners also directly. Set up support channels such as a chat or daily/weekly video meeting. Also, inform the learners when you are going to reply their messages – you don't have to be online 24/7 but the learners have to know when they can expect your reply. By providing support on time, you can prevent most of the dropout.
Conclusion and golden rules
All in all, online teaching follows the very same principle as in-class teaching: Learning requires activity on the learners side, and teachers' task is to enable this activity. I hope this brief guide has helped you in this.
In case you would need some more support, you can download summaries of this six step guide in the form of onepager Golden Rules for Online Learning Outcomes (PDF) and Golden Rules for Online Dropout Reduction (PDF). For more support material, check our page For teachers.
I encourage you to go ahead and try – and learn from your trial!
Read more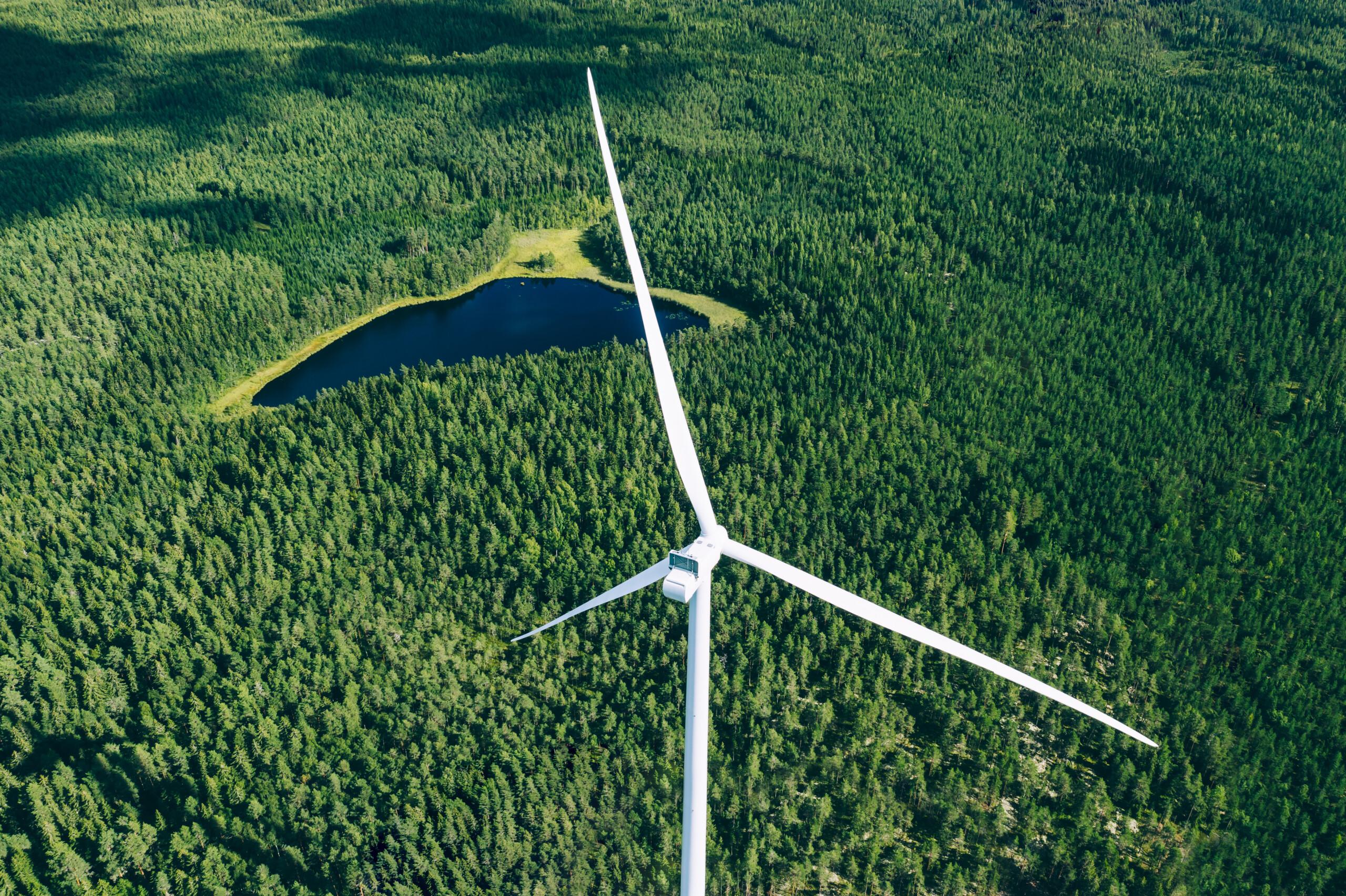 NEWS
FITech courses provide a big picture of hydrogen economy
Published 14.9.2023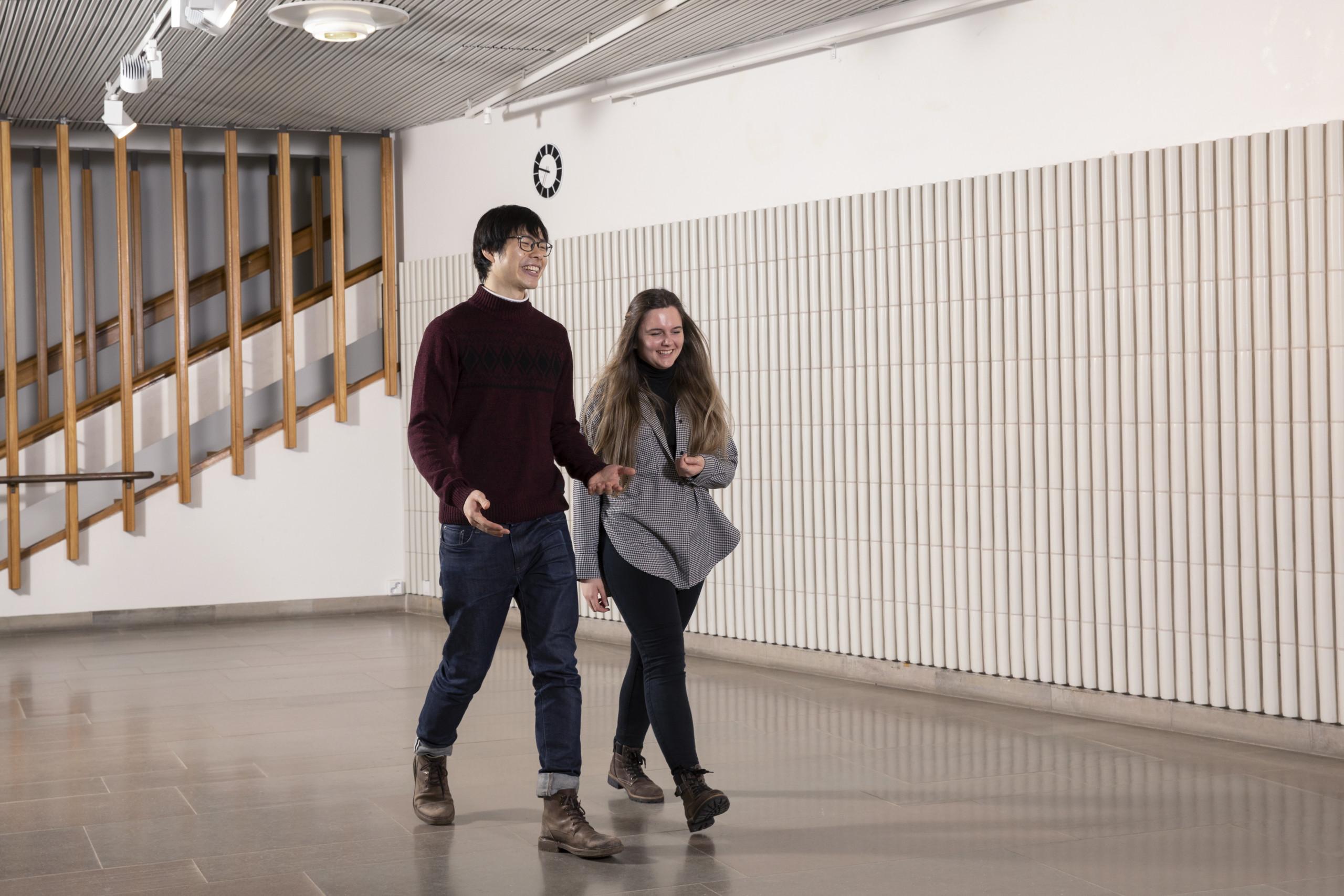 NEWS
Apply to FITech's autumn courses from 1 June
Published 31.5.2023